Royal Orchid Thai Cusine
Thai cuisine at its best in a restaurant so beautiful & tranquil it's hard to describe. Amazing attention to detail in décor & spectacular food. Ask the chef to help you order from superlative meat or enticing seafood specialties. Left at top of tunnel stairs, opp. Hotel Sol & Mar. Tel. 289 502 505.
In the old town - Almost next to the old church. Lovely view of the sea and beach just below you and over the rooftops of the old town. Always very busy – need to book! Praça Miguel Bombarda 7 Albufeira 8200 Tel:  289 512 137
Cave do Vinho do Porto.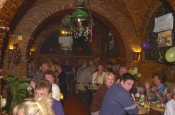 It is 200 years old, the second oldest building in Albufeira, and used to be a wine cellar. We ate outside there, and then went inside for drinks, and to listen to the singer there, who was very good. He sings there every night except Tuesday, and we really enjoyed the music. (Review by a client – I have not eaten there myself) . Rua da Liberdade, nº 23, 8200 - Albufeira, +351 289 589 144
Cabana Fresca
This is a must – even in October and November – this restaurant packs them in. It is a beautiful location and the food and service are both superb. Everyone here seems to eat Cataplana which is a traditional Portuguese dish. I had the fish and it was fantastic!..Praia dos Pescadores, 8200 – 061 Albufeira
351 289 585456
Casa da Fonte
In the Old Town beside the tunnel to the sea – Half way up stone steps before the tunnel to sea.)  One of Albufeira's loveliest restaurants . Secluded open air patio (lemon tree & grape vines). Perfect for lunch & dinner. Delicious fresh fish, steak, chicken piri-piri, great kebabs, sardines, squid, all grilled. Enjoy dinner or drinks in the garden patio. Rua João de Deus, 7 8200 – Albufeira +351) 289 514 578
Atrium Restaurante
In the Old Town near the tunnel to the sea – coming from the beach through the tunnel to the sea it's on your right hand side.
  This is a beautiful upstairs restaurant with 4 tables set in bay windows overlooking the street. They have "Fado" (Traditional Portugese Music) 1 or 2 nights a week .You should book this on Fado evenings - especially if you want the bay window table..+351) 289 515 755
Featured in the BBC travel program ''Wish you were here''! & recommended in the British press. Dine in this 'cosy cottage' or on the large terrace under giant palms. Specializing in delicious 'Sizzling Stone Grills' . Have great fun grilling quality steaks, lamb, pork chops, chicken etc. at your table. Plus full menu. Excellent service makes this a wonderful night out! Well worth finding. This is a long time favourite! Evenings from 6:30pm. Separate party room. Reservations advised. Rua Victoria No4, Areias  De Sao Joao, 8200-295 AlbufeiraTel. 289 515 789.